Primary Care Gambling Service
Speak to your GP or contact us on: 0300 0300 111 Monday to Friday: 9:00am to 4:00pm
For OOH support contact GamCare 0808 8020 133
24/7 7days a week
When We Are Closed
The National Gambling Helpline is operated by GamCare and is available 24 hours a day, every day of the year. Advisers can provide information, advice and support for anyone affected by gambling harms, and they can also refer into our services. Call free on 0808 80 20 133 or web chat via www.gamcare.org.uk.
NHS 111 is the number you should call when you need advice or medical treatment quickly, and you cannot wait for an appointment to see your doctor.
If you need emergency medical treatment, you must call 999.'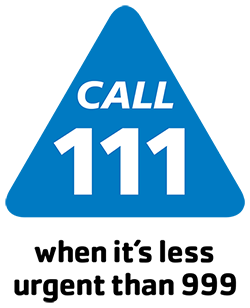 In a genuine emergency you should call 999. Chest pains and / or shortness of breath constitute an emergency.